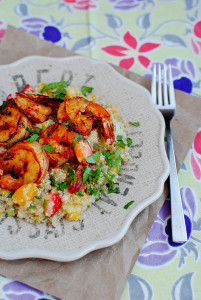 Caribbean Quinoa Salad Ingredients:
1 cup dry quinoa, rinsed very well under cold water
1-1/4 cups chicken broth
1-1/2lbs peeled & de-veined shrimp
2 Tablespoons extra virgin olive oil
1/2 cup each chopped strawberries, mandarin oranges, green grapes, and canned pineapple tidbits packed in natural juices (drained and juices reserved)
1 green onion, chopped
2 Tablespoons chopped cilantro
1 Jerk seasoning blend (or 2-1/2 Tablespoons store-bought)
Jerk Seasoning Recipe:
1 tablespoon sugar
1 tablespoon paprika
1/2 teaspoon salt
1/2 teaspoon garlic powder
1/2 teaspoon ground red pepper
1/4 teaspoon ground thyme
1/8 teaspoon ground allspice
2 tablespoons olive oil
For the Caribbean Vinaigrette:
3 Tablespoons lemon juice (about 1 lemon)
3 Tablespoons extra virgin olive oil
3 Tablespoons reserved pineapple juice
salt & pepper
Caribbean Quinoa Salad Directions:
1. Rinse quinoa well under running water, then combine with the chicken broth in a pot. Bring to a boil then place a lid on top, turn heat to low, and simmer until broth has been absorbed and quinoa is cooked, about 15 minutes. Spread quinoa out onto a big plate to cool.
2. Pat shrimp dry with paper towels then place in a large bowl. Add olive oil and jerk seasoning blend, then toss to coat. Heat a large skillet over medium-high heat, spray with non-stick spray, then cook shrimp for 1-2 minutes a side, or until cooked all the way through. May need to work in batches. Set shrimp aside.
3. Combine Caribbean Vinaigrette ingredients in a jar or bowl, then shake or whisk to combine. Place chopped fruit, green onions, and cilantro in a large bowl then add cooled quinoa and dressing. Stir well then taste and add more salt & pepper, if necessary. Spoon quinoa onto plates and top with cooked shrimp.
Adapted from iowagirleats